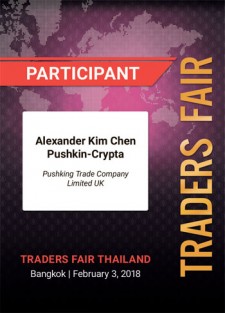 BANGKOK, January 15, 2018 (Newswire.com) - Traders Fair 2018 - Thailand is going live on Feb. 3, 2018, at Shangri-La Hotel in Bangkok and will become the first of five events in the Traders Fair series organized by FINEXPO. The event will host over 20 exhibitors and 1,500 attendees from all over the world and everyone still has a chance to visit it.
Registration is quite easy. Just click the button "Register now" on the official website of the event - thailand.tradersfair.com - and download the mobile app. This is how everyone can get access to the world of trading and even get a chance to win amazing prizes: a scooter and motorcycle KAWASAKI NINJA 250, sponsored by FBS online Forex broker and FINEXPO.
By the way, the list of sponsors of the event itself includes such brands as USGFX, XM, FBS, AETOS, Thai Airways International Public Co. Ltd, MTrading, International Financial Holding FIBO Group (Financial Intermarket Brokerage Online Group), RPNpay, Olymp Trade and NordFX.
The line of speakers sounds impressive as well: Mario Singh, Atilio Bertolidi, Newell Ross, Kritsada Sengriab, Satja Dhavehutsadin Na Ayuthaya, Phitsanukhom Chaiyavet, Marrck Sattahakarn Chuenkomol, Chanachat Jaikengdee, Feungtot Pativetwanakit, Keng Chokchai Saekow and others.
FINEXPO is the first and most influential financial event and fair producing company in the world since 2002 and its history of organized events counts over 30,000 traders, investors and financial advisors with more than 3,000 financial companies and brokers on Stock, Option, Forex, Bond and Forward markets. Thailand Traders Fair is expected to become one of the greatest financial and trading events in Asia.
FINEXPO Inc.
Margarita Yakupova
+44 207 100 2174
info@finexpo.org
Source: FINEXPO Inc.
Share: