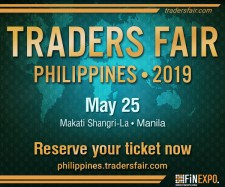 News
•
updated: May 1, 2019
Best local speakers are visiting the series of worldwide financial events in Philippines
When – May 25, 2019
Where – Manila, Philippines (Makati Shangri-La)
https://philippines.tradersfair.com/
Larry Collin and Alex Samson are two young and influential local Philippine Forex traders fighting against Forex scams in the country. Both of them are becoming headliners of financial event for traders and investors which is going to take place at Makati Shangri-La in Manila, Philippines on May 25, 2019.
Larry Collin is only 24 years old yet a founder and CEO of country's foreign exchange educational resources Forex Trading Philippines. He has more than 4 years of experience in the Forex trading with a main goal to prevent Forex scams in the country. He talks about personal finance and investing work at home opportunities whilst working as an executive real estate virtual assistant with realtors and investors in the US and Canada and as an executive virtual assistant to the founders, CEO's and C Level executives in the US, Canada and Australia. His seminar topic is "An Introduction to Better Understand Forex Trading".
Alex Samson is the director of the group promoting financial literacy and battle scams called Philippine Association of Forex Traders Inc. Alex is also an independent trader who assists others on how to start their Forex trading journey. "Introduction to Fundamental Analysis" is the topic he will be talking about during the event.
Traders Fair Philippines is sponsored by leading brands such as FIBOGroup, RPNPay, OlympTrade, AvaTrade, Nordhill Capital and gathers the best trading experts, companies, money brokers and banks from all over the world which are going to share their experience. Here one can get updates on the new data about cryptocurrency, forex, stocks, futures and options markets. Not to mention the event is going to be filled with educational programs as well as entertainments. To register online now for free, please visit https://philippines.tradersfair.com/
Traders Fair is organized by FINEXPO, the largest organizer of financial and trading events, fairs, expos and shows worldwide since 2002. List of its projects seems quite long. Here you can find Financial Expo, Traders Fair, Traders Awards, Forex & Money Expo, Forex Expo Awards, Money Fair, Investor Expo, Golf Expo, Banking Expo, Online Trading Expo, etc. Over 30000 traders, investors and financial advisors and more than 3 000 financial companies and brokers from Forex, stock, option, crypto and forward markets from all around the world have been connected by FINEXPO. The positive feedback from participants is the best proof of effective and successful work done by FINEXPO.
Share: