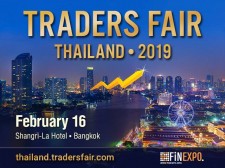 Event
•
updated: Dec 8, 2018
FANTASTIC FINANCIAL SHOW LIKE NOWHERE! Top speakers are going to make educational speeches in the Fair seminar halls.
It has become known about an interesting and unique project of its kind that will bring together traders and investors from all over the Asia area. This is the Traders Fair & Gala Nights 2019 event. Already now a FREE registration is opened on the official website or mobile app FINEXPO.ASIA of the project. This event will be held with the support of FINEXPO inc, as the experience of this company has 15 years of productive work to attract traders and investors. Already today the number of participants included in the work totals 30 000. Also, more than 3000 world companies are invited to take part in.

What does the Traders Fair 2019 prepare for its participants? Visitors can become listeners of famous speakers, whose speech will take place in a special conference room. Specialists in the stocks, futures, options and forex markets are ready to share their unique experience and tell about the current trends of work on the exchanges. People, in whose hands the securities portfolios are, will tell how they can be preserved and multiplied. It turns out that the information for listeners will not only be interesting, but useful, and even valuable.
In general, the Traders Fair & Gala Night 2019 is a complex event. This is a whole series of exhibition fairs that will be held throughout the year in such countries of Asia as the Philippines, Malaysia, Thailand, Indonesia, Singapore. Participants will be able not only to devote time to the current issues of the stocks, futures, options and forex markets but also have a great time. The organizers envisaged holding bright gala parties with a concert and entertainment program: live performances, prizes and gifts, and bright shows.
Share: