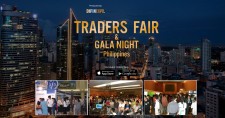 Event
•
updated: Jan 14, 2018
ASIA TRADERS FAIR & GALA NIGHT. FANTASTIC FINANCIAL SHOW LIKE NOWHERE! Series Traders Fairs and Gala Nights is going to take place in Thailand, Indonesia, Malaysia, Philippines and Singapore attracting the world of traders to one place during in one day. Top speakers are going to make educational speeches in the Fair seminar halls. All brokers company in one place!
You will have an opportunity to meet the best trading experts as well as the best trading companies, banks, money brokers from all around the world. Top speakers are going to make educational speeches in the Traders Fair seminar halls. The Fair program is going to be full of entertainments, magic shows, lucky draws, fantastic prizes, live performances and music. You can make a reservation on the event webpage and get the access to the incredible world of trading for free.
The world of cryptocurrency, forex, stocks, futures and options markets is a complex set of capital markets for each country today. At the same time, trading securities is carried out on both the exchange and over-the-counter markets. Under the confluence of favorable conditions in this system concluded deals on securities packages bring profit to its participants. Therefore you need expertize and capital to work in the stocks, futures, options and forex markets as it will become the initial ticket to the world of big trade. Participants who have capital while entering the market become investors.
Share: